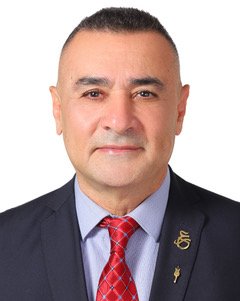 UK


I am a Jordanian British Senior Consultant Maxillofacial Surgeon and the Director of the Jordan British Specialty Center for Maxillofacial Surgery & Oral Implant Centre.  Amman – Jordan. 
I obtained my undergraduate degree in Dental Surgery from Liaquat Medical and Dental College, University of Sind in 1982.
I obtained my Master degree in Oral & Maxillofacial Surgery from the Eastman Institute at the University of London in 1987 and the Fellowship in Oral & Maxillofacial Surgery and Oral Medicine FFDRCSI from the Royal College of Surgeons of Ireland.
I held the following positions:
- President, Higher Studies Committee Jordanian Board Exam, JMC. (2014-2018, 2018-2022).
 -  Chairman, The Curriculum & Training Committee; Arab Board Of Health Specialization.
- Past President of the Jordanian Society of OMFS
 (2014 - 2016, 2016 - 2018). JDA
- Past Vice President, Continued Medical Education Committee, JMC.
- Past President of the JDA Scientific Committee
 (2002 - 2004, 2011 - 2013). JDA
- Visiting Clinical Professor & External Examiner, to Several Arab and International Universities.
I am an International Lecturer with more than 30-year Academic and Clinical Experience:  Lecturing widely with more than 300 worldwide lectures and more than 100 Courses, Hands on Workshops and Live Surgery in Jordan, Middle East, Asia, Africa and Europe. Lecturing mainly, on Orthognathic and Cosmetic Surgery i.e (rhinoplasty, oculoplasty, eyebrow lift, face lift, otoplasty, genioplasty, botox and fillers injections), Reconstructive Surgery, Traumatology, War Injuries, Maxillofacial Access to Orbital & Skull base Tumors, Oncology, Reconstructive Surgery and Oral Implantology including Bone Augmentation and Soft Tissue Management for both inexperienced and experienced Dental, Oral and Maxillofacial Surgeons. 
HONORS:
* HIS MAJESTY THE KING, ABDULLAH II BIN AL HUSAIN THE GREAT On the 6th of June 2008 honored Dr. Sartawi with signed Royal Photograph addressed to him with the title of Excellency as well as a Gold Pin emblazoned with the Royal Family's Emblem as an award for His Surgical distinction and achievements in the field of Maxillofacial Surgery in Jordan and the Middleast acknowledging his role in the promotion of Jordan outstanding medical and surgical level locally, regionally and internationally.  
* HIS ROYAL HIGHNESS PRINCE ASSEM BEN NAYIF also honored Dr. Sartawi and awarded him a Trophy for Surgical Distinction during an honoring ceremony held under his patronage.